WMC 2002 - Miami, FL, USA
March 22 - 26, 2002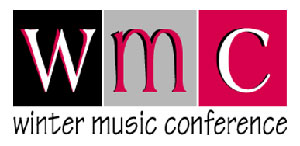 It has only been a week since I've been back but I still have thoughts of conference dancing in my head. It was an undoubtedly insane time of parties, DJs, media and networking. The global dance community was representing in force and I even got to meet my Xpander.nl counterparts for a wee bit. There were too many parties to recount here, but I'll bring my high points of conference to light: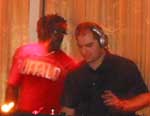 FRIDAY, 3.22.02 - Arrival :// Miami. Upon a late Friday night arrival besieged by New York City airport delays and security breaches, we arrived near 1am to our hotel and after a bit of decompression, we set out to start our WMC adventure. A closed guestlist deterred us from the Hooj party @ Opium Garden, so instead we rendezvoused with what appeared to be all of New York at the Balance party @ Billboard Live. After Anthony Pappa's long-winded mixes tantalized the masses, by all accounts Mick Wilson stole the show with a great set with tracks including Bkork and Liz Fraser Underwater. Beautiful! Meanwhile, within the vast space of Billboard, we found Gotham clubbers gathered in the back room on the top floor dancing to the brilliant tag-team set of Sander Kleinenberg & Lee Burridge. The duo was partying up with the best of the Gotham revelers. It was the vibe of an intimate house party with our superstar DJs. That's super in caliber, not attitude. This was a great party to set it all off. We walked home along the beach, which was the last time I'd see the beach for the next four days.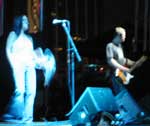 SATURDAY, 3.23.02 - Ultra4, a massive outdoor festival in downtown Miami. I have never seen a production this huge for the dance music scene in the US and it bodes well for the future of America and hopefully will help pave the way for last year's failed endeavors of Creamfields and Mekka. Bigger than last year, I spent most of my time running around to arrange press for various artists. In the midst of all that, the two highlights of the event were Kosheen's live show and Paul van Dyk's closing set. As far as Kosheen goes, this group is far more than just a 'Hide U' one-hit wonder (on a side note: they did win Best Record of the Year for 'Hide U' at the DanceStar USA awards held at WMC) . The breadth of their sound with Sian Evan's sultry vocals and the energy of their live performance is truly a diamond in the rough of the dance music scene. To cap the 12+ hour massive event, PvD brought the massive crowds to frenzied heights of energy at the end of a long day with his signature sound. He is well-loved in America and it showed. Afterwards, I walked the couple short blocks to the Miami Arena for the launch of the Delta Heavy Tour featuring Sasha & John Digweed, plus mastermind Jimmy van M. This trio brings it on full-force with a production unrivaled in the dance music scene. As they embark on their 35-city US tour, I implore you to go see them at the closest venue near you. You will not be disappointed. Sasha and John are both on the cusp of releasing new albums and after a long hiatus, their sound is most welcome. Plus, the visuals and lasers make this a must-see. Watch out America!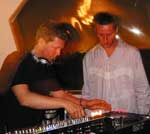 SUNDAY, 3.24.02 - Sasha & Digweed Boat Party. This was a highly coveted invite as the guestlist turned into a who's who of dance music. We joked that if the boat went down it would serve a major blow to the industry. It was the creme de la creme of artists including Jimmy van M, Chris Fortier, John Creamer, Sandra Collins, Sean Cusick, Sander Kleinenberg et al. and of course our gracious hosts Sasha & John. Also on board were friends, promoters, label and media heads and in true egalitarian fashion, all those milling about the dock without invites were eventually let on board to join in the fun. I spoke with a team of street marketing folks who were at the dock to hand out flyers and they could not believe their luck of landing on the boat. There was something magical in the air as we cruised along Biscayne Bay with the sounds of Jimmy, John and then the masterful Sasha to close the night along the shore. I think Tye Comer, Associate Editor of Mixer magazine summed it up best with the heartfelt sentiment of everybody on board, "I never want to get off this boat." True that.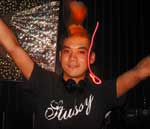 After a long deserved disco nap, I made my way over to the SAW.recordings * WMC party @ Lola. I missed Hector Romero's set which was said to be a blend of masterful skills, to already find Satoshi Tomiie on the decks rocking it out. This party turned into a who's who as well, as Ali of Deep Dish, Digweed, Sasha and Trendroid made the rounds. This was one of the finest sets I heard all conference, as Satoshi is a master of mixing and programming. It's no wonder he has been chosen for Global Underground's next NuBreed 6 compilation. He has chartered new territory with his sound and deserves the accolades and recognition. He may even rival Digweed for "nicest guy" award. Whether in Gotham, Miami or Ibiza - Satoshi manages to keep his sound real and underground.
MONDAY, 3.25.02 – URB Magazine and Essential present AQUATHEQUE:03 Boat Party. The boat was at capacity with hundreds of people with invites denied access to the boat. One can definitely not get enough of the boat parties, where the food is fine and the liquor flows freely and the talent is always top-notch. There's the intimacy of the boat where all are held captive and the openness of the bright Miami sun. A respite away from the dark, smoky clubs and this one was no different with Sander Kleinenberg and Pete Tong rocking the decks for a three-hour tour. A moment for the books was a conversation between Sander and legendary Grandmaster Flash – a true meeting of the global dancefloor minds of past, present and future.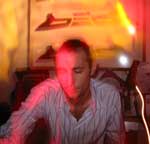 Another disco nap and off to Made in Bed with Danny Howells. Always a Gotham favorite, he led the party into a frenzy amidst club kids jumping on beds. Anthony Pappa, Satoshi, Hector Romero, John Creamer & Stephane K, Lee Burridge were all in house to represent. In this intimate party space, Danny does it again by creating one of the best party vibes I witnessed during the week. Cheers Danny!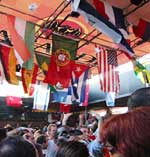 Then we're off to the other Danny. Danny Tenaglia's legendary party @ Space. The hype for this party was gargantuan and I can only imagine the craziness that preceded our 8am arrival. This was the quintessetial who's who. Too many industry sightings to make note. Whoever it is, they were probably there. The darkness of the mainfloor was near-blinding, but we found shiny, happy people on the terrace rocking out to Danny's beats and his deck-side chats amidst the global theme of international flags and doves hanging amidst the terrace crowd – dance local, think global™ - YES! For a moment I thought I was back on the terrace at Space in Ibiza. We lasted 'til 4pm, while the party was rumored to have gone 'til 6pm - only for the hardcore.
TUESDAY, 03.26.02 – After a quick stop to check in at the Bullitt Bookings Party @ Spin (read: industry party). Behrouz set the dancefloor off, while we spotted the Xpander team (Hi Arno & Patrick!) Ali & Sharam, Ashley Casselle, Trendroid et al. before heading off to the Essential Party @ Opium Garden.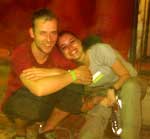 A beautiful outdoor venue with Sander Kleinenberg already rocking out on the decks. This flying Dutchman flew to our rescue as my friend Taj slipped and sprained her ankle in the club. A security guard carried her out and Sander followed suit in true gentlemanly fashion. We chatted curbside and the sprained ankle was replaced by a bright, smiling Taj as we grabbed a cab home. Back at the hotel, we put Taj to bed with an ice pack and again we set off to go to the Satellite Records Party @ Steam. We missed Dave Seaman and Parks & Wilson, but heard killer tracks, as I guess only the boys at Satellite would be privy to. A lackluster crowd was indicative that the party people were losing steam, but we stayed to catch the last tune to support.
WEDNESDAY, 03.27.02 – The last dance at Nikki Beach with Steve Lawler, Dave Ralph, and Carl Cox. Although I was told Lawler left in a huff when his slots got switched and Taylor proceeded to close out the night. Regardless, Coxy banged it out with some merciless techno beats and my partner could only mutter "WOW!" as Coxy pulsated the beats harder and faster. What a way to end the week's festivities.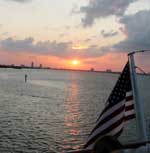 So another conference comes to an end and the frenzy that is Winter Music Conference leaves me gasping each year, but the beauty of the global gathering is truly remarkable. The synergy of the week-long party where DJs, producers, media, publicists and the requisite clubbers come together has been inspiring if not tiring. The biggest news of the conference for me was Trendroid's signing to Kinetic Records to do Transport 6. The release is scheduled for July 2002 and Trendroid will join the prestigious ranks of Paul Oakenfold, Dave Ralph, Sandra Collins, Max Graham and Quivver. Nary a pair of talented, hard-working blokes are more deserving of this high honor. As the conference gets bigger and bigger each year, 2002 is shaping up to be a year to look for up-and-coming DJs and producers and a nod to Gotham as we eagerly await Trendroid's Transport 6 and Boxed's Nubreed 6 by Satoshi Tomiie. It was a good time at WMC 2002 and it's going to be a good year in Gotham, you just wait and see…
Related Links:
Master Party List compiled by David Prince, produced by Flavorpill.